THE WEEK OF MARCH 26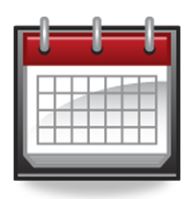 This week's schedule.
Altar Flowers Schedule
March 26 - Judith Littleton
April 2 - Maureen Smyth
April 9 - Palms
April 16 - Easter Sunday - congregation to bring spring flowers
April 23 - Randy Schoof
Lenten Film Series
"With All Your Heart" 7 p.m. Wednesdays at the Oldfields—22288 N. Dietz Road in El Dorado. Historian Ray Vander Laan will lead us through these topics:
3/29—By Every Word-Striking the Rock
4/5 - With All Your Might: The Final Test
Building Committees
Building Finance Committee: Roland Barden, Keith Bjerke, Claude Marsh, Del Nordtvedt, and Jody Rathfelder.
Building Committee: Ron Moen and Gary Decker, co-chairs, Pam Collins, Pete Rathfelder, Roger Smith, Eileen Stratman, Dennis VanBatavia, Chris Wallace and George Walter.
March Birthdays and Anniversaries
Birthdays: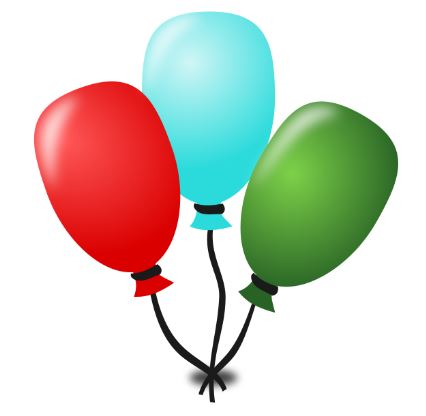 Amy Anderson - 3/9
Jan Zimbelman - 3/10
Phyllis Rohde - 3/22
James Brown - 3/23
Kathy Nockleby - 3/23
Ron Moen - 3/29
Anniversaries:
Pete and Jody Rathfelder - 3/3
Glenn and Jan Zimbelman - 3/13
Roger and Dianna Smith - 3/15
Curt and Kathleen Davis - 3/17
Chris and Stephanie Wallace - 3/30
Eira Gault
The granddaughter of Tanis Gault, Eira, is very ill and the family needs financial support. If you would like to help, please go to her "GoFundMe" account.
Maricopa Food Bank News
Pr. Glenn talked with Wendy this week and was told that while the Food Bank has to be out of the building by May 1, they are still looking at options. Please pray that God will find them a place to do this vital ministry. There have been no decisions yet regarding closing, they are exploring possibilities..
Hidden Treasures Lutheran Thrift Store
As part of our service and outreach, we are organizing 2 work days a month at Hidden Treasures Thrift Store. We will be joining 4 other congregations that help support this ministry. Please sign up and we'll arrange transportation/car pooling.
Men's Ministry
All men are invited to breakfasts and Bible study which includes men from Journey United Methodist.
The breakfasts will be held on the 3rd Saturday of each month at the Duke.
The men's video Bible study will be held the 1st Saturday of every month at the home of Rich Miller. The study will be based on "Game Plan for Life" with Joe Gibbs. The videos are as follows:
4/1 - Playing hurt
This video study will allow you access to Joe's racing team and also professional sports athletes. Please invited a friend and remember to bring your Bible. Sign up for both men's events at the event table.
Flower Chart
We have very few people signed up to bring flowers - please remember to do so at the sign up table in the back of our worship center. On Easter (April 16), we are asking the congregation to bring "spring" flowers. We have decided not to have lilies as there are many people allergic to them.
Mercy, Mercy, Mercy - March 5, 2017
The parable of the Good Samaritan is one of the most popular parables in the Bible. We have hospitals named after it. We even have laws in most states. If you stop to help someone in need, you will not be punished if you mess up. Most of the time we take the parable to means, anytime someone is in need, we should help them. That certainly is true. I would like to present to you this morning perhaps a different way to look at this parable courtesy of seminary professors at WorkingPreacher.Org.
Our Sermon Archives
Generally, within a week or so, you can review the sermons for most Sundays on our website. The full text of Pastor Zimbelman's sermons along with a PDF download version are there for your review.
Global Barnyard Lent Mission
Please pick up a barn on Sunday and collect coins and cash to contribute to our first ever Global Barnyard mission event. We hope to buy lots of chickens and goats. Brought to you by our Global Mission Team. We ask you to turn them in on Palm Sunday.
Baptism - Keegan Alexander Morano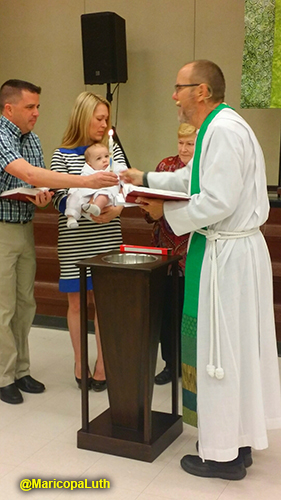 The baptism of Keegan Alexander Morano, son of Lee and Jamie Morano, February 29, 2017.
All People Welcomed into the Family - February 19, 2017
You see on the screen a picture of my multi-level all-purpose ladder. I have wanted one of these for yours. I use to have a very unstable aluminum step ladder that when I climbed on it, it always felt like I was in the middle of an earthquake. So every year a home improvement store would put these on sale during Black Friday. I would hint to Jan, one of those ladders would be nice. I never got a ladder. I think it was just too big to wrap. So one year, I saved up my money and bought one on Good Friday. So now I have a stable ladder. It is especially useful for trimming palm trees. Can you tell that I really love my ladder? Now last year my next door neighbor is putting up Christmas lights. My ladder is visible when the garage door is open so the entire world knows I own one. He knocks on my door and asks if he can borrow my ladder. We have a relationship of sorts. We take in each other's garbage cans. We talk about his kids. Of course I said, sure. Do you know what happened? You can read in Blondie how Dagwood loans a tool to Herb and never gets it back. So, where is my ladder? No, He returned it when he was done. I really had no concern loaning him the ladder and he could have kept it for a while. Now what makes my neighbor feel it is okay to cone and ask me to borrow the ladder,? In one word, relationship! We knew each other.
Lasagna Dinner
Mark April 1 on your calendar for the second annual lasagna dinner at Butterfield Elementary School. We are looking for some entertainment after our dinner. Can you or do you know someone who could present an act? Juggling? Storytelling? Dancing? Singing? Instrumental offering? Contact Gwen Marsh.
Who likes Change - February 12, 2017
I actually once bought and wore a T Shirt that said,
"We've Never Done It That Way Before"
Today we are going to talk a bit about everyone's most favorite topic, Change. Someone once said complained to a pastor friend of mine. You know the world is changing. The church is one place I trust to keep everything the same.
So to get you in the mood here are some quotes about change from a couple of comedians.
MLC Council Members
Roger Smith, president, Sharon Mros, vice president, Kathie Miller, secretary, Carolyn Barden, Gary Decker, Sue Fletcher, Barbara Nybakken, Richard Rohde, Pete Rathfelder, and Carol VanBatavia.
Compassion of Jesus - February 5, 2017
It was a typical Sunday morning in Payson. I would get up, get to the church and do the first worship. Jan would come drive over at the end of first worship and hang out with people and attend second worship. That morning she came in late with her face drained. She had been in an accident. What had happened is that she was cutting across the street into the church parking lot and the car in front of her stopped. This left her in the middle of the street. She did not see the man on the bike until it was too late. The man fell over on the street to keep from hitting our car. She took the man to the hospital. He was banged up. It was a gray area of who was at fault. The guy on the bike was also going too fast. This is why you have insurance isn't it. So I contacted my insurance agent. What I needed to hear from him is words of encouragement and hope. What I got was anything but. In essence he said, well, accidents happen. Everyone has them. Good bye. He sounded as if he was mad at me for getting in an accident. Compassion and mercy clearly was not his gift.
VITA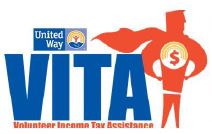 Sue Fletcher has worked with this program for six years and encourages anyone who doesn't enjoy doing their own taxes to come visit their site!.