Altar Flowers Schedule
July 26 - Marilyn Botterud
August 2 - JoAnn Eslinger
August 9 - Eileen Stratman
August 16 - Connie Lundahl
August 23 - Maria VanDyk
August 30 - Dick and Phyllis Rohde
Building Fund Goal
MLC has received a generous match of $50,000 if we reach that amount in our building fund by 12/31/15. Let's see what God does with this. Goal: $50,000; Current: $30,894.24. Needed: $19,105.76.
Ephesians Sermon Series
Our lectionary offers Ephesians as the second lesson from July 12 through August 23. This provides an opportunity to teach about one book for an extended sermon series. You may read ahead and bring your Bibles if you like. Here is the schedule: 7/26, Eph 3:14-21; 8/2, Eph 4:1-16; 8/9, Eph 4:25—5:2; 8/16, Eph 5:15-20; 8/23, Eph 6:10-20.
Mission Moments
Discipleship Formation
Jesus tells us to make disciples of all nations. A disciple follows and does what Jesus does. A disciple also helps to create other disciples. We can readily list the "problems" of the church usually reflected in the "not enoughs." We don't have enough people, money or whatever. The answer is a faith issue. Are we willing to be disciples? Are we willing to help create new disciples? Can we think about always growing, learning helping to make a difference in this world?
We have our five principles for MLC. We have a mission statement. How do we grow people? I recognize that the Holy Spirit has a place in all of this. People are at different levels of their faith and their commitment to their Lord and their church. I want to develop a plan for Maricopa Lutheran. Some have used classes on healthy faith practices. That certainly could be done. I think mentoring is part of the process. Jesus spent 3 years with his disciples. If we were to have a plan for Maricopa Lutheran Church what would that plan look like? What should be included?
Please share your thoughts with me in person, email or on my blog.
In Your Prayers
Please keep Chris and Stephanie Wallace in your prayers as they travel to France for Chris to compete in the World Masters Athletic Track and file competition. Chris won a Good Medal in San Diego last weekend. Way to go, Chris! We'll be here rooting for you!!
Ice Cream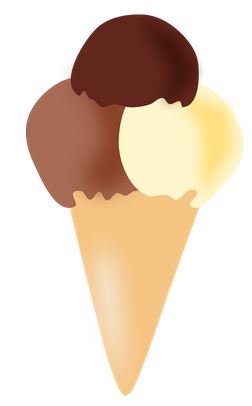 To celebrate another $10,000 milestone for the building fund, we will have an ice cream social after worship on Sunday.
All youth 5th-8th grade are invited to a game night on Monday, August 17 from 6:30-8:00 pm at Pastor Glenn's, 42546 W. Corvalis Lane. Bring a friend and your favorite board game. Let Pastor Glenn know if you are attending!
July 19, 2015 - New Humanity People
We read in Ephesians 2:16 the following, "He has abolished the law with its commandments and ordinances, that he might create in himself one new humanity in place of the two, thus making peace, and might reconcile both groups to God in one body through the cross, thus putting to death that hostility through it: Now we might ask, "What does this new humanity look like?" How does it happen? Why is it necessary? For a Jewish person the entire world is made up of two types of people. No they are not the pessimists and the optimists. Being Jewish is the first type. Gentile or non-Jewish, is the second type. It is that simple. Being Jewish meant you had the blessings of God. If you are Gentile you did not. Christ comes to proclaim a new way. This way is counter culture to how the people treat each other. For you see, humans are quite good at saying who is in and who is out. We do that through race, religions, politics, social class and the like. It happens in all the little cliques in Middle and High school to who's allowed to live in a neighborhood
Joint Bible Study with Journey Methodist
This is a video study using Philip Yancey's "The Bible Jesus Read." From 6:30 to 8 p.m. at Pastor Glenn's home, 42546 W. Corvalis Lane (Glenwilde). Each study stands alone so come as often as you can. Dessert will be provided.
Getting To The Heart Of Worship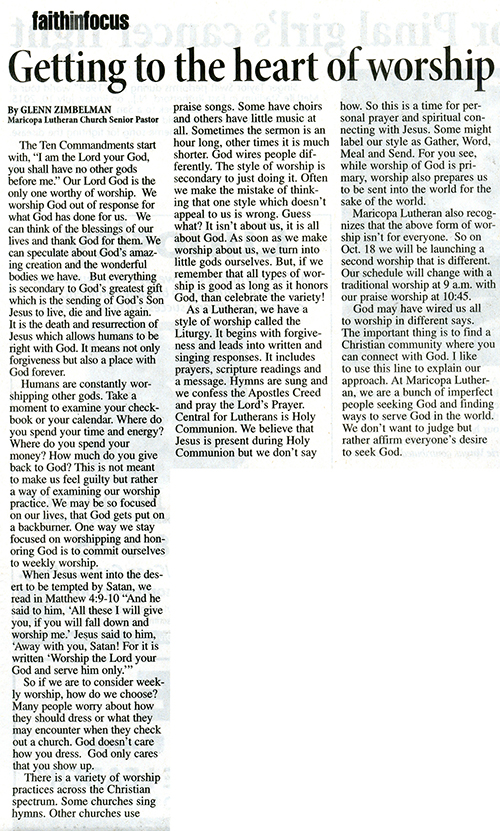 Maricopa Monitor article by Pastor Glenn Zimbelman, July 14, 2015.
July 12, 2015 - Ephesians Series 1-God's Blessings
Ephesus is part of Turkey today. I visited Ephesus on a trip I took with my mother to walk the steps of St. Paul. Ephesus has more extensive ruins than any city I saw second to Rome. So before we begin our journey through Ephesians a little background information might be helpful. The letter is written by a Jewish person many claim as Paul to a Gentile community. The Jews and the Gentiles have always been at odds with each other. Remember, if you are Jewish, to touch a Gentile makes you unclean. Now, under this new religion called Christianity, everyone is included in God's kingdom. So the letter is written as words of encouragement to this new church. It will include advice on how to get along and how to be the church that Jesus proclaims for us all.
Food Bank Challenge
Our annual competition among local churches begins on July 26 and ends August 16. Every 12 cents we collect equals one pound of food. Let's see if we can outdo our results from last year!!
June 28, 2015 - Rehab your Life
I come to you as a person in process of restoration. The last few years my arm has been a nuisance. I should have bought stock in Aleve. Most of the time it just annoyed me. It would swell up with any kind of use. Basic shoveling or chopping wood and my arm would throb. What really bothered me the most, was in sports. It affected my golfing. I only play about 3 times a year and my 82 year old father in law still beats me. It did hurt to swing a club. I told him that my new arm is going to be so good, I will need to come up with another excuse. My arm affects me the most playing tennis and pickle ball. So now I wait. Rehab has started. I have great hopes. I can't wait to get back on the court. Notice the word Restore in these Bible verses.
Mission Moments
Fellowship with God & Each Other
We have an idea of what fellowship usually means. We label rooms as " fellowship hall" and this is where cookies and coffee is served. Fellowship is not just casual conversation. Fellowship is being accepted as part of the body of believers. It is the opportunity to connect with each other. Some of fellowship may be general chitchat. Some may be conversations around health or spiritual matters. Whatever the case, fellowship when practiced best, means that people are connected and cared for.
It would be hard to imagine us having cookies and coffee with God. One would think the questions and answers would be significantly deeper. We can have fellowship by asking God to join us in our daily journey. We can certainly use prayer to connect. We can also ask God to celebrate with us as well. Fellowship also includes everyone. This means we look for ways to bring people into caring conversations and invite God to walk with us.
How can prayer be a conversation with God?
What person or persons could we deepen our relationships with?
June 21, 2015 - On the cruise with Jesus
Is this the farm house that was used for worship? I am just curious. How many of you have been at MLC since the very beginning? Think back for a moment. Think about the beginning stages of wondering what it would be like to have a Lutheran church in Maricopa? Who will be the pastor? How will we let people know? Who is going to get us some chairs? Who will help us with a sound system? Those are the easy questions. Then you have harder one. How are we going to get the money? Is this what God wants? And so you plan, and pray and prepare for the first big worship. And behind it all is the ultimate question really, will anyone show up?
June 14, 2015 - Small Things Matter
Somewhere I picked up the concept of faith as horizontal and vertical. So someone who is prone to Vertical faith, sees their faith as a connection to God. This person might spent a lot of time in prayer, Bible study and personal piety. If you take it to the extreme, you might even become a monk or a nun. Pushed to its limits, a vertical faith person ultimately longs for heaven. They can't wait to be with Jesus. There focus is on the hereafter. Many people are like this. They have a very private spirituality.
June 7, 2015 - Standing firm in the face of evil
In our Christian history there is a monastic movement that still exists to this day. For some it means going off and being by yourself, cut off from the world. The focus is on being one with God. The picture on the screen is a monastery in a placed called Meteora in Greece. I have been there. At the time I believe there were over 20 monasteries placed on some of the highest granite stones in the world. They settled there because it was a good place for the hermits to escape invading Turks. Today there are six left with each one having about 10 official members. Two of the six are women. They are huge tourist attractions because they monks need the money to keep the remaining six in good repair. One purpose was for the hermits to isolate themselves so they can focus on their spirituality. The second purpose of course, was to escape the world, and all the evil that it entails.
Maricopa Musings
...can be found at http://pastorinjeans.blogspot.com. On my blog is all the "Mission Moments" in which you have the opportunity to also post your replies to each blog. As the blog emerges I will post more writings and even have sample surveys. The link to the blog will also be on our church website by clicking at the top or on the pastor's page.
May 31, 2015 - Finding God
When we think of Eden we conjure up the usual images in our mind. The forbidden fruit often depicted as a red delicious apple. The snake crawling on the ground. The snake getting Eve to eat the apple. Adam too whimpy to say no to Eve. He eats it too. We are aware of that first sin. Eating of the forbidden fruit. What we fail to recognize and must remember is the consequence of that sin. We read in Genesis 3:8
"They heard the sound of the Lord God walking in the garden at the time of the evening breeze, and the man and his wife hid themselves from the presence of the Lord God among the trees of the garden"
Before the sin, God and Humans hung out together. They enjoyed each other's presence. God saw that what God created was good. Now that relationship shatters. A new reality emerges. Humans are cast out of the garden and now there is a gulf between Humans and God. While Adam and Eve hid from God it seems that God is hidden from us.
Fry's Community Rewards Program
Go to Fry's website - http://www.frysfood.com and sign up!! We received our first payment from Fry's!! Please be sure and sign up so that these payments will continue!!
May 24, 2015 - Discover Your Superpower
When I was a kid I use to love my comic books. I would read just about anything. I secretly hoped I would get bit by a radioactive Spider and turn into Spiderman. I read just about anything but enjoyed Fantastic Four and the X-Men. So out of curiosity, I typed in What kind of Super Hero am I and Mr. Google took me to a site that has a quiz to fill out. The survey asked questions like, do you have long hair and are you a geek. The end of the test I pushed submit and voila. The test says I should be Superman. There you go. So what kind of super power would you want: Speed like the Flash? The strength of Hulk. To be able to fly like Superman? I think flying would be pretty cool. Now let's just say for sure humor sake that you could fly. Think, no more traffic jams. No more going through security at airports. Think of the view you would have. Then let's imagine you had the power and decided not to use it. Yup, you knew you could fly but you chose to say no. You in essence ground yourself. You say, "Not for me, I don't want anything to do with it." Who would do that? Well no one, unless I suppose you afraid of heights. Even that shouldn't matter, you can fly.