THE WEEK OF JANUARY 22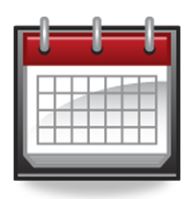 This week's schedule.
Altar Flowers Schedule
January 22 - Maureen Smyth
January 29 -Tricia McDonald
February 5 - Laura Cambone
February 12 - Eleanor Bader
February 19 -
February 26 - Pam Collins
Maricopa Lutheran Travel Trip - Canyon Lake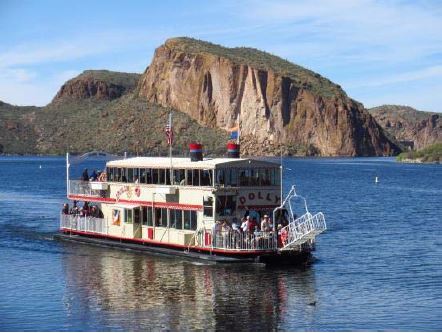 On Monday, Feb. 25th we will carpool and meet at 7:45 am at Pastor Glenn's. We will take the Dolly Steamboat tour on Canyon Lake tour for 1.5 hours at 10 am. We will eat lunch at Tortilla Flats. After lunch we will explore Goldfield (shops and interesting stuff). We should return around 4 pm.
Please make a check out for $21 (if 60 or older) to Maricopa Lutheran and give it to Pastor Glenn. You may sign up at the Event's Board but money must be in hand by Feb. 12th.
Download the Flyer (PDF)
Annual Meeting - THIS SUNDAY!
The annual meeting of the congregation of Maricopa Lutheran Church will take place on Sunday, January 22, immediately following the service. This meeting will include the election of council members and the approval of our annual budget. The candidates for council and their bios are available on the Reports and Download Page.
Men's Ministry
All men are invited to breakfasts and Bible study which includes men from Journey United Methodist.
The breakfasts will be held on the 3rd Saturday of each month at the Duke.
The men's video Bible study will be held the 1st Saturday of every month at the home of Rich Miller. The study will be based on "Game Plan for Life" with Joe Gibbs. The videos are as follows:
2/4 - The enemy's game plan
3/4 - Signing bonus
4/1 - Playing hurt
This video study will allow you access to Joe's racing team and also professional sports athletes. Please invited a friend and remember to bring your Bible. Sign up for both men's events at the event table.
Church Directory
The Evangelism committee is putting together a new church directory. They would like to have all who attend worship to be listed, whether they are members, associate members, or just attend regularly. They would like to include as much information as possible, i.e., address, phone number, and email. However they also understand that some do not wish to have this information publically available. Because it is so helpful to have a face along with a name, they will also being putting pictures in the directory, which will be made in-house. There will be a sign up sheet in the back of the church or you can email Kathie Miller at her personal email address or using the Contact Page on the Church's website with your information.
Remembering Christmas Eve 2016 - The Video
The Christmas Eve Celebration - 2016.
January Birthdays and Anniversaries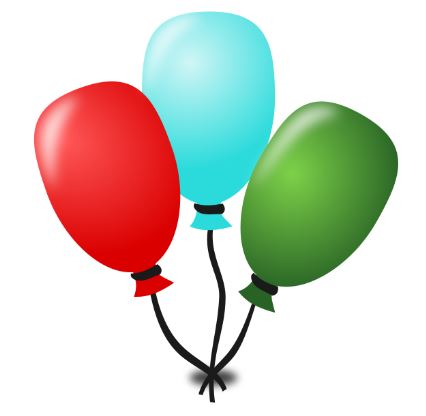 Birthdays:
James Olderbak - 1/3
Bonnie Oldfield - 1/4
Gary Decker - 1/8
Diane Hebert - 1/8
Stephanie Wallace - 1/8
Sue Fletcher - 1/16
Jada Stratman - 1/16
Sheila Richardson - 1/19
Karen Knutson - 1/22
Mojo Krup - 1/27
Bill Gault - 1/29
Anniversaries:
Doug and Lyn Hunsaker - 1/5
Remembering the Celebration of Christmas Eve 2016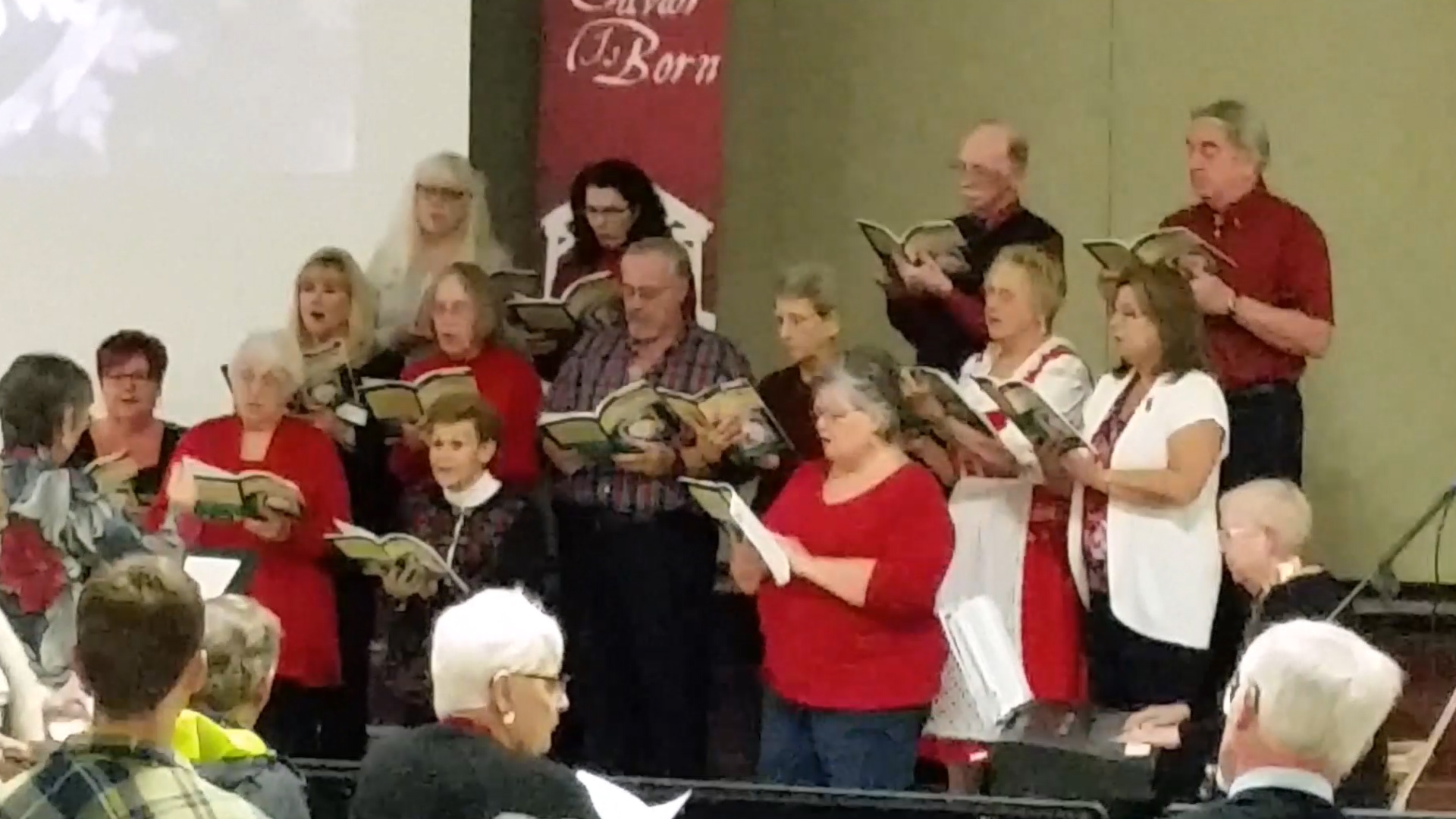 Remembering the Celebration of Christmas Eve 2016
Flower Chart
Please be sure and sign up to bring flowers sometime in 2017.
MLC Buttons
Buttons can be picked up for $1 at the sign-up table. Please wear these to show your support of our church.
Looking for Hope - December 4, 2016
As we enter our second week of advent we turn to the book of Joel. Joel is my most favorite book in the entire Bible. Do you know why? It is because Joel is my middle name. When my mom used the middle name of Glenn Joel, I knew I was in trouble. See now you know my middle name and you also know that I got into trouble. Well, it really is not my most favorite book but it does have some lessons for us this morning.
Prayer List
Names on the prayer list will remain for one month. Please let Pastor Glenn or Sue Fletcher know to add a name or to continue a name.
The Baptism of Emma Reagan Munkirs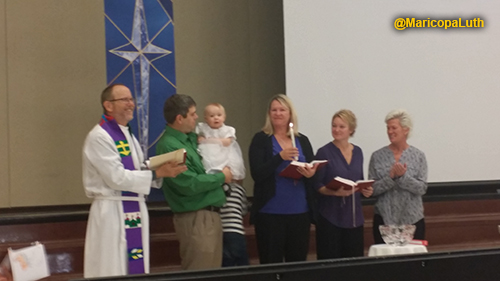 On Sunday, November 27, 2016, we baptized Emma Reagan Munkirs. Her parents are David and Carla Munkirs and her sponsors are Wendy Meurer and Denise Kellen.
New Members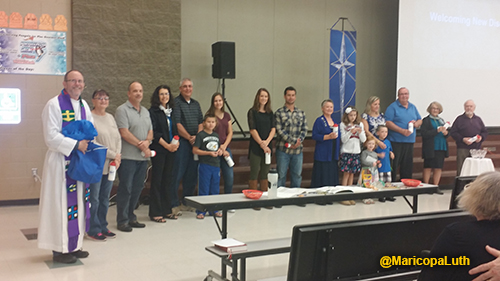 Jerry, Renae, Amy and Nathan Beeman; Cathy Davis; William and Marlene Gault; Todd and Beth Hatcher; Charlene Hughes; Michael, Leslie, Preslee, and Colby Isetta; Alan, Clarita, and Karen Knutsen; Maddi Lamb and James Olderbak; Judith Littleton; Dan and Udine Locke; Janie Mauck; Bryan Mitchell; Shirley Richardson and grandchildren Peyton and Jayden Shirey and Trinity and Hailey Austin; Linda Spears; Jim and Betty Steinhauer; Roz Therrien; Brian Witowski; Randy Schoof.
Keeping Christmas Central - November 27, 2016
This Sunday we mark the beginning of our Advent Season. One of my favorite advent hymns is Oh Come Oh Come Immanuel. I like it mostly because I know it and once in a while I might even hit the correct note. Be reminded of the first verse,
Oh Come oh Come Immanuel and Ransom Captive Israel, that mourns in lonely exile here until the Son of God appear.
Today we look at Daniel and the Lion's Den story. We remember from our Sunday school days that Daniel gets thrown into the Lion's Den. He emerges from the Den the next day.
Here I Am Send Me - November 20, 2016
The church council spent an evening discussing the issues of the congregation. One of the subjects was the poor appearance of the church building. It needs to be painted one person cried out. The church was full of penny pinchers that didn't want to pay for it. They had hoped someone would step forward and foot the bill that didn't happen. Alas, they said, we will purchase two gallons of paint and let George do it. George wanted to do a good job. The first wall was fantastic. Bright red, it really looked great. Unfortunately he noticed he had used ½ the paint. So knowing that the council expected him to do the job on just 2 gallons he did the smart thing. He began to thin the paint with water. The second wall was not as red, but still looked okay. He began to thin the paint even more. The third wall went but red to light pink. He got to the fourth wall and the bottom of the paint bucket was almost empty. What should he do? Should he go and buy the paint himself. Should he dare to ask the council for more paint? He was in a quandary. Suddenly a voice came from heaven. George, the voice said. Oh good George thought, God is coming to the rescue. The voice said, George, Repaint, Repaint and Thin no More.
Here I Am Send Me - November 13, 2016
I am tasked this morning to have the privilege and honor of giving to you our annual stewardship message. Next week will be pledge Sunday where, if the Spirit so moves you, you will let God know what you are planning on giving to your church this next year. This, I remind you, is for the general giving of the congregation. Funds for a future building/land is another category. So I in many of my churches we would do an annual stewardship campaign and I would preach for three or four consecutive weeks on the topic. Do you know what happened? Our giving went up 76 percent. No that is not what happened. What mostly happened is that our worship attendance went down. It is funny, church and money, people most of the time wish the whole subject would go away. Give of our time, wait a minute, that might mean that I have to do something. So what is really going on here?
Fish Story - November 6, 2016
Jan and I once had a credit card that offered free night stays at a particular hotel chain. We were traveling to the Ozarks on vacation. On the way down we stopped at a hotel and the manager readily accepted our coupon for a free night. On the way back we drove a bit further and stopped at different hotel but part of the same chain. The night manager said, I don't have the authority to accept your coupon, you will have to talk to the manager in the morning. It was 10 o'clock and so we decided to stay. The next day the manager says to us, "oh, we do not have to accept that coupon, you owe us for a night stay". I said, look it says on here, free night. The other hotel in a nearby town accepted this. Why don't you? He manager said, well, we are independent and you owe us money. So we ran out of the hotel, the cops were called and we spent a night in jail. No what really happened is that I paid him the money and we fumed about it all the way home.
Reformation and Confirmation Sunday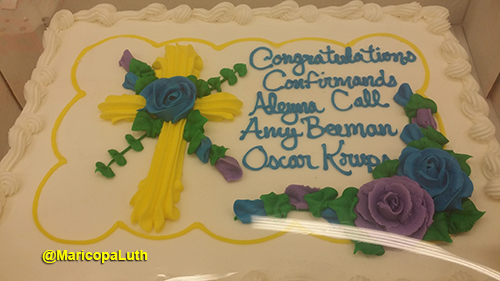 Reformation and Confirmation Sunday