THE WEEK OF JANUARY 21
This week's schedule.
January Birthdays and Anniversaries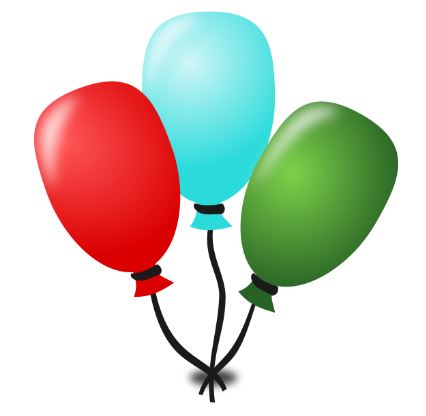 Birthdays:
James Olderbak - 1/3
Bonnie Oldfield - 1/4
Gary Decker - 1/8
Diane Hebert - 1/8
Stephanie Wallace - 1/8
Sue Fletcher - 1/16
Jada Stratman - 1/16
Karen Fenster - 1/17
Sheila Richardson - 1/19
Karen Knutson - 1/22
Jim Sparks - 1/31
Anniversaries:
Keith and Marian Bjerke - 12/29 - 55 years
Jim and Helen Sparks - 12/29 - 48 years
Doug and Lyn Hunsaker - 1/5
Mike and Kori Schleuter - 1/14 - 34 years
Commission Hymn and Anthem
Commission Hymn and Anthem for February 11, 2018 - 5th Anniversary Celebration
Like Waters in the Desert—music by David Bugli—words by Carl Jensen
Like waters in the desert, so flows our Savior's grace,
Like promises of dawning of light in every place
The Lord who died to save us and then rose up again
Shall come in final vict'ry and glory without end.
By water and the Spirit we're gathered by God's call.
Through bread and wine our Jesus comes here and feeds us all
No matter how we differ in many human ways,
Our Lord brings us together to give him all our praise.
As waters in the desert are sent so flowers may grow
Now we are sent to others that they our Lord may know
To share the gifts of pardon, of mercy and of grace,
That through our acts of serving we may reveal God's face
Like flowers in the desert we bear the seeds of life
The life that is eternal, that heals all human strife
The life of Christ flows through us and reaches out to all
That all may know the blessings of our Lord's loving call.
© music by David Bugli and words by Carl Jensen.
Licensed to Maricopa Lutheran Church.
Reports and Downloads
Just added to the Download Page:
Council - January 14, 2018
Worship - January 8, 2018
March Madness Building Fund Fundraiser
Will be held Saturday, March 10, at Butterfield Elementary school. Singers, dancers jugglers, magicians, entertainers of any sort may contact Gwen Marsh at 775-781-1421.
Community Garden
We will have a meeting on Sunday, February 4, following the worship service to see if there is anyone interested in creating a community garden on our land.
New Member Luncheon
This is for anyone wishing to jin MLC as a full member or as an associate member (keep your membership in another church). Please see Pr. Glenn for the new member form. The lunch will be hosted by Charlie ad Laura Nord—20146 N. Oxbow Lane in Province, on March 4, 2018.
Ash Wednesday
Already? Yes, Ash Wednesday is February 14! It will be here before we know it. The evening service will be held at 7 p.m. at Journey Methodist which is at Maricopa Wells Middle School.
MLC Council Members
Roger Smith, president, Sharon Mros, vice president, Kathie Miller, secretary, Carolyn Barden, Gary Decker, Sue Fletcher, Barbara Nybakken, Richard Rohde, Pete Rathfelder, and Carol VanBatavia. At the January congregational meeting, we will be voting for three candidates: Gary Decker (2nd term), Sue Fletcher (2nd term), and Bob Nockleby, who is running for a three year term to replace Richard Rohde who is retiring from Council.
5th Anniversary Celebration
On February 11, we will be celebrating our 5th anniversary since incorporation. Rev. Miguel Gomez-Acosta , director of evangelical mission at the Grand Canyon Synod, will be our preacher. Immediately following the worship service, we will have a potluck dinner. Fellowship will provide a sheet cake and coffee and water, and a ham and turkey loaf will also be provided.
Annual Congregational Meeting
Please mark your calendars for January 21 when our annual congregational meeting will take place following the worship service.
Thoughts on Stewardship
Stewardship is HEART work!
1 Peter 4:10 "Each one should use whatever gift he has received to serve others, faithfully administering God's grace in its various forms."
MLC Camping Ministry
On Feb. 1st to Feb. 3rd, Pastor Glenn and Jan will be at Lost Dutchman State Park in Apache Junction. We are at site 119. They have electric and non-electric sites. Please go online and reserve your spot if you want to camp. Reserve your spot closest to #119. Let Pastor Glenn know if you plan to camp and we will coordinate events and food.
MLC Travel Ministries: Tubac, San Xavier Mission
On Thursday, Jan 25th we will car pool from our land, 40050 Santi Rd at 8am. A two hour trip will take us to Tubac, an artist community and also a state historical site. Tubac has lots of shops and places to browse. We will eat lunch at a nearby Mexican restaurant and see the mission on the way back home. Please sign up at the events table in the back.
Baptism
Baptism of Alice Matilda Perez daughter of Manny and Leanne Perez and granddaughter of Cliff and Pam Torgerson.
Christmas Choirs
Children singing Away in a Manger - MarleighJo Nicholas, Nathan Beeman, and Nevaeh Crane.
The Word Made Flesh
For the next 5 months or so we will take a journey through the Gospel of John. In the normal cycle of the Revised Common Lectionary, this lesson is often read either on Christmas Day or the Sunday following Christmas. John by far is the most beloved of the four Gospels. We will encounter the I am sayings, the Wedding at Cana and woman at the well. The first chapter of John is called the prologue and it really contains all the themes found in the entire Gospel. This first chapter has lots of deep messages that it is hard to wrap your brain around many of the words. I hope this morning we can just touch a bit on some general themes.
Comedy Corner
Bulletin Bloopers: At the evening service tonight, the sermon will be "What is Hell?" Come early and listen to our choir practice.
Listen, Look, God is Here
This will be our last Sunday on the prophets and the Old Testament lessons. It has been quite a journey through the Old Testament this Fall. We looked at stories from Genesis like Jacob and Esau and explored Shadrack, Meschack and Abednego. Next week we will start our journey through the Gospel of John. If I am really good, I might even have new devotionals ready for you next week. So, today, we look at a very meaningful text, Isaiah chapter 55. Most scholars believe this was written after the Jewish nation returned from Exile. When they arrived back in the Promised Land it was a very bleak place.
Dry Bones
As we live into our second week of Advent, our prophet this week is Ezekiel. Ezekiel is a Jewish refugee living in Babylon when the book was written. Much of the book is a judgement against Judah for their sins. It is because of their sins against God, that the Jewish nation ends up in Babylon. This of course is a theme that all the prophets address. As the end of the book, we have this vision about dry bones. So to get into the mood for the day I thought we could all sing along with the lyrics.