---
We've added a new section to the main website called Reports and Downlaods.
Just added:
August birthdays: Glenn Granquist (8/12), Joe Bergen (8/17), Pam Collins (8/23), Christine Bergen (8/23), Roy Bentley (8/26)
The following items are needed for Sunday school: 2 staplers, staples, scissors (blunt end), colored pencils, colors, glue sticks, pencils, rubber bands, paper clips, 2 hand held punches, hand held pencil sharpeners, Kleenex, paper towels, stickers.
We are looking for our notebook that contains instructions for paraments and setting up the altar. Please let JoAnn Eslinger or Helen Sparks know if you have this book. Thanks!!
We are in need of help in the nursery during worship. If you are interested, please let Carol VanBatavia know.
These were printed in bulletins somewhere out there!!
"The pastor would appreciate it if the ladies of the congregation would lend him their electric girdles for the pancake breakfast next Sunday.
"Low self esteem support group will meet Thursday at 7 p.m.. Please use the back door."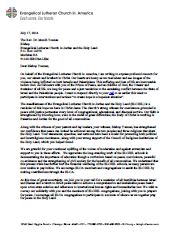 ELCA's Bishop Eaton speaks out on the conflict between Israel and Palestine.
Please follow this link to read this important message.
CHICAGO (ELCA) – As the conflict between Israel and Hamas in the Gaza Strip further escalates, the Rev. Elizabeth A. Eaton, presiding bishop of the Evangelical Lutheran Church in America (ELCA), expressed her profound concern for members of the Evangelical Lutheran Church in Jordan and the Holy Land in a July 17, 2014, letter to that denomination's bishop, the Rev. Dr. Munib A. Younan.
Sunday School will be held on Sunday mornings 10:00 - 10:45 for children Kindergarten - 6th grade. Confirmation classes will be held Sunday mornings 9:00 - 10:00 for children in 7th and 8th grades. Registration forms for both programs are available in the back of the church. We would appreciate early registration so materials can be ordered.
These exciting programs will commence on Rally Sunday, September 7th.
Teachers are needed - if you are interested, please see Linda Walter.
The prayer group will discontinue meeting during the summer months since so many people will be traveling. Please watch the newsletter for the date this will start again.
We are looking for special music during the summer. If you play an instrument or sing, please let Pat Jensen know - 757-369-4152 or see her after worship.
It is time to update our MLC directory and we need your help!! We have been blessed with many new people in the past year or so and have tried to keep up with addresses, but are missing quite a few.
We would appreciate it if everyone (even if you think we already have it) would send their address, phone number and email to Sue Fletcher at avpsue@aol.com and she will compile all this information.
It would also be helpful if you would provide your birthday/anniversary in this email. We are sure we are missing many of those also. Thank you for your help!!!
Beginning on Sunday, May 11, 2014, a nursery will be available during the worship service. The nursery will be staffed by two adults. The age of children should be birth through preschool. You may drop your children off at 9:45 a.m. and pick them up after worship. You may also retrieve your child for communion if you wish. Any parent or church member may sign up to volunteer in our nursery. We would like to have at least 6 people signed up to take turns each week. A sign-up sheet will be available in the rear of the worship space. Please contact Angela Bentley, Maureen Smyth, or Carol VanBatavia with questions.
We have a new phone number for the church -
520-450-1871.
If you have questions or need pastoral assistance, please call this number or email us at info@maricopalutherans.org
Follow us on Twitter for most last minute updates and notifications.
Most announcements that are appropriate for public distribution will also be twitted on our Twitter account.
If you already have a twitter account, simply click: Follow us on Twitter.
Please let Sue Fletcher know when a name can be removed from the prayer list.
---