---
Everyone is invited to a house blessing at the home of Pastor Zimbleman (42546 W. Corvalis Lane) on Friday, May 8, from 5 p.m. to ??? You can bring a salad, appetizer, or dessert; the main dish and beverage will be provided. Please let Pastor know if you are attending by speaking with him or signing the sheet in the back of the church.
The praise team has met and we will begin our second service with a "soft" opening for September 27, October 4, and 11, and a "grand" opening on October 18. The traditional service will be at 9 a.m. and the praise service at 10:45 a.m. We will introduce the praise service at our regular worship on Sunday, August 30.
MLC has received a generous match of $50,000 if we reach that amount in our building fund by 12/31/15. Let's see what God does with this. Goal: $50,000; Current: $12,094; Needed: $37,906.
Troop 389 is planning to attend Camp Geronimo for a week this summer. This will give the scouts an opportunity to earn badges they normally can't earn such as swimming, lifesaving, canoeing, rowing, sailing, horsemanship, etc. The eight scouts are busy raising money for the $350 per camper fee, but they could use our assistance. This is especially true since not long ago while they were on a backpacking trip, they had their camping equipment stolen from their base camp, including their water and food. Maricopa Lutheran Church helps sponsor this troop. The council has voted to start the fund with a $300 donation. The council thought that members of our congregation may also want to make a donation to Troop 389 for their summer adventure. If you want to help the troop, checks can be made out to Maricopa Lutheran with a notation that it is for Troop 389. The camp registrations have to be sent in by May 10. Thank you for your assistance.
April 26 - Rich and Kathie Miller
May 3 - Kathy Wilson
May 10 - Eleanor Bader
May 17 - Del and Devonna Nordtvedt
May 24 - Norm and Pam Collins
May 31 - Maria VanDyk
April 19, 2015 - Changing your Mind

Sweetie of my heart. I've been so desolate ever since I broke off our engagement. Simply devastated. Won't you please consider coming back to me? You hold a place in my heart no other woman can fill. I can never marry another woman quite like you. I need you so much. Won't you forgive me and let us make a new beginning? I love you so.
From Deuteronomy 26:1-11—"first of all the fruit of the ground." We are stewards not only of God's creation but also of God's story. In this passage, Moses commands the people to bring their first fruits of the promised land into the sanctuary as well as tell the story of God's salvation, promise and fulfillment for the people of Israel. Good stewards bring their gifts into the storehouse in thanks for God's relationship with His people.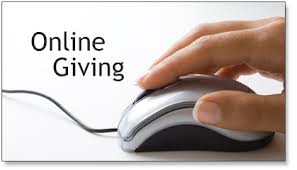 We are pleased to introduce an electronic option for making regular offerings. Contributions can be debited automatically from your checking or savings account or processed using your credit or debit card. The new electronic giving program offers convenience for you and much-needed donation consistency for our congregation. Collection basket offerings can fluctuate significantly from week to week due to travel, illness and other circumstances, but when contributions are automated, the church receives funds on a steady, uninterrupted basis. You can set up your donations on our website or if you'd rather, stop by the church office for an authorization form.
To set up your electronic donation on our website:
Click on the "Donate Online" button (left side of screen)
Click on the "Create Online Profile" button,
Then follow the onscreen instructions to create an online profile and to schedule your recurring contributions.
April 12, 2015 - My Lord and My God

I grew up in Buckley Washington located at the foot of Mount Rainer. My brother Roger wanted to climb it. Instead of going with a guide service we joined Tacoma Mountaineers, a climbing club. The upshot is I learned how to climb rock and glaciers. I climbed Mount Rainer when I was 14 years old and climbed all over the Northwest until I was 23. It was on one of my climbs that God first became real for me. We were working our way across a glacier trying to get to our route up the mountain. It was later in the summer so at the bottom it was more rock and shale and less snow. There was a point where we had to go single file down the side of a cliff full of rock shale. There was no way to anchor our rope to keep us safe. If we slid or slipped we were toast. We had to go one at a time and space ourselves far apart. If the whole side gave away we didn't want it to take the 3 of us. We went through this gap, going real slow, and I was the last one to go. While I was waiting, I remember praying to God and saying essentially this, God if this is my time I am to die, I am yours. The most interesting thing came over me. I had a sense of real peace. I had a sense that whatever happened to me, I would be okay. With that in mind, I ran down the side of the mountain. Not really. I went slow but with great confidence. At the end as we climbed up onto the snow, a climbing friend asked me if I was gripped, meaning afraid. I said, nope, I knew God was with me. He gave me the weirdest look.
Fry's Community Rewards Program

The stewardship committee has signed up for Fry's community rewards program in order to help raise funds. We would like to encourage everyone to sign up for this program. Here's how:
Go to Fry's website - http://www.frysfood.com - select "register" - enter your email and create a password - enter your Fry's VIP card number, last name and zip code. Follow the instructions to find a store, then select store and "create account."
Once you have created your account, you can register for the Fry's community rewards program by clicking on "community rewards program". It will ask for your organization's NPO number - it is 25033.
Diapers, ointment and baby wipes needed!

Don't forget to pick these up when you shop and bring them on Sunday mornings!
Maricopa Lutheran Church water bottle for sale!

Only $5 - get yours now! The proceeds go to the building fund.
The last Sunday school will be May 17, 2015.
April 5, 2015 - Easter Responses

So what do we say to each other about Easter? We might say, He is Risen, and we may respond by saying, He is Risen Indeed. That is one response. It is quite natural. I say, the Lord be with you, and you respond, And also with you. You are well trained. What is the most popular response to Easter? Happy Easter everyone. Turn to your neighbor and say, Happy Easter.
Maricopa Monitor Article


Pastor Glenn's article from the Maricopa Monitor on Holy Week.
"I want to express my deep thanks to everyone for the cards, meals and kind words. You have blessed me as Bernhardine is now home with Jesus."
March 22, 2015 - Seeing and Knowing Jesus

This certainly wasn't what she expected life to be. She was happily married, had a nice house and a good job. She had a wonderful but shy 5 year old girl that was her wonder and joy. I had many visits with her and watched her body waste away. She has inoperable brain cancer. It was not a matter of if, but when. She said to me one of the things I will miss the most is not being there for my daughter's big moments in life. She would miss her 16th birthday, her first date, her high school graduation and if God willed, her wedding. So she decided to make several videos. You might view it as "words of advice and hope from your mom". She made a video for each of those life stages. She wanted her daughter to know that while she may be absent physically, she would be with her daughter when she turned 16 and so forth.
March 15, 2015 - Shining light on God's Love

Some of you might remember this guy. He was the rainbow man. He would dress up in a rainbow colored afro and show up at sporting events. You would see him at the NBA finals, at NFL games and even at Nascar events. He became famous enough that he found himself in Budweiser beer commercial. I always wondered where he got the cash to come up with all those tickets. He was everywhere. But you see it wasn't just his rainbow hair that stood out. He would also flash a sign that said, John 3:16.
Pastor Glenn's sermons are now on You Tube - when on the site, just input Maricopa Lutheran and click on the picture and there he is!! Isn't technology great??? Note: There will always be links to the videos on the Pastor's Sermons Page on the main Website as well. Written sermons can also be found on the website.
New Disciples Received on March 8, 2015

New disciples received during worship service on March 8, 2015.
March 8, 2015 - Why We Worship

When I first interviewed with the call committee I mentioned to them that the sermons online from Mt. Cross Lutheran in Payson are all done at the contemporary service where I don't dress up in my pastor's outfit. Well somewhere along the way, that was missed. When my name was submitted to council they were told, well Pastor Glenn wears street clothes while preaching. So many of you were expecting me to be in my jeans that very first Sunday. So I surprised some of you by having my pastor's garb on. Some of you are still wondering when and if you will see me in jeans on a Sunday morning. That will happen during our future second worship but I have too much respect for those that appreciate traditional forms of worship to not conduct worship in an alb and a stole.
Please be sure and go to Facebook and Twitter and see what's new at Maricopa Lutheran!
There are currently three people who help in the set up and take down of the sound system. We would like to have at least one more volunteer, so that there can be a monthly rotation system set up. Please see either Terry Oldfield or Ron Moen if you are interested in helping.
The Evangelism committee would appreciate someone who has experience in creating advertisements to maintain our advertising in community publications. Please see Carol VanBatavia or Kathie Miller if you are interested.
Please let Sue Fletcher know when a name can be removed from the prayer list.
---