Scan with your Mobile Phone to Donate online.

---
THE WEEK OF AUGUST 30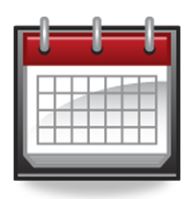 This week's schedule.
Altar Flowers Schedule
August 30 - Dick and Phyllis Rohde
September 6 - Bruce and Barbara Nybakken
September 13 - Stephanie Wallace
September 20 - Rich and Kathie Miller
September 27 - Laura Cambone
Building Fund Goal
MLC has received a generous match of $50,000 if we reach that amount in our building fund by 12/31/15. Let's see what God does with this. Goal: $50,000; Current: $33,477.24. Needed: $16,520.76.
Narrative Lectionary
Begins September 13. MLC will receive a Fall Devotional booklet to help with the Sunday readings courtesy of Mountain View Lutheran Church. There will be one Old Testament lesson and one Gospel reading through Advent. After Christmas, it will be Gospel and Psalm
Food Bank Challenge
It's official - we won!! Thanks to all who contributed to this very worthy cause!
Altar flowers
Not too early to think about November and December (besides it might cool you off)!! We will need altar flowers for 11/29, 12/20, and 12/27.
Richard Timmons Funeral
Richard Timmons funeral will be held Saturday, August 29, 2015 at Valley of the Sun Mortuary & Cemetery, 10940 E. Chandler Heights Road, Chandler, AZ 85248, at 3 p.m. All are welcome.
August 23, 2015 - Armor of God
Today we are wrapping up our Sermon Series on Ephesians. It is very important to remember when reading the New Testament that the Jewish people were an oppressed people. They existed as peasants, just eking out a living. When Christianity began it was a very small minority group. It not only had to go against the Roman Empire, it had to stand firm against Jewish religion that wanted to stamp it out. So Ephesians is best read through the eyes of a minority group. We might even reflect a bit on the minority groups of our day, African Americans and Latinos, Illegal immigrants, women who don't get equal pay as men, single mom's, people without health care, mental illness people and those struggling with physical challenges. We could even speak of children in general while they may have numbers, the have little power in an adult world. Paul recognizes this. The Ephesian church and its people will have to be strong in the face of oppression.
Praise Team Preview
Sunday August 30, is the Praise Team Preview! At our worship service that day (10 a.m.), we will present the new "second" service for your preview! It will consist of the: welcome, praise songs(3), prayer, song, scripture, message, process time, song, communion, sending song. There will be one offering plate on a table along with the hunger jar.
Two Services
We will go to two services on September 27 - traditional at 9 a.m. and new service at 10:45 a.m.
Mission Moments
In the book of Acts Christianity is a fledging new religion. We can learn much from this book on how to do mission in 2015. The new church did two very important things. They gathered in community to focus on their faith. They prayed and did communion with one another. They grew in their love for each other. This movement then extended out into the community. Where they saw need, they loved. It is this "love" that made people curious. What is this Jesus and this "love" all about?
August 16, 2015 - Ephesians Series 5: Sing, Sing, Sing
I am certainly a bit self-conscious about my singing ability. I try to make sure my mic is turned off but alas I will forget, and suddenly you will hear me. I thought I could earn some extra money by working for a sheep herder. I could sing at one end of field and drive the sheep to the other end. I cannot read notes. I cannot make my voice go to where the notes are even if I could read them. To compound the issue I have no sense of timing either. When everyone claps in rhythm, I have to watch others to match my claps. So here I am, off key, which assumes that I am ever on key, and no rhythm.
Sermons
Keep in mind that if you missed the Sunday service, you can still hear Pastor Glenn's message on our website!.
Education Committee
The committee is excited to announce a new program and approach for children and adult Christian education with lessons to support and enhance the Narrative Lectionary. Beginning September 13, these new materials will be found at an education table. For the children, the materials may be completed during the service or at home with the help of parents and family. The adult materials will be available for Sunday Bible study. Beginning October 5, this class will meet at 10 a.m.., the time between the 2 services, so that adults may attend regardless of when they worship
If you are interested in serving on the Education committee, please let JoAnn Eslinger or Sharon Mros know.
August 2, 2015 - Ephesians Series IV: Behavior, Foundation, Purpose
I have been a pastor for 31 years. I have had the great joy and privilege of seeing God do some amazing things in God's church. I also get to experience the downside of it all. It is the war stories, if you will,of the church not being the church.
We started a preschool when I served a church in Mt. Horeb, Wisconsin. We needed to raise some money for the school. There was an Art Fair that came to town once a year with an estimated 10,000 people. We even let them use the church lawn to set up the booths. We were right on main street in the middle of it all. The only thing the church did was open it up so people can use our bathrooms. A plan emerged. Chicken dinner on Saturday to benefit the Preschool. Steak Fry on Sunday to benefit our new men's group. All sounds pretty good doesn't it? Well on Saturday, my friend Mark had an idea. It was hot out. So why not take a cart, load it up with Ice cream and sell Strawberry sundaes? So he grabs a metal cart from the kitchen and sells up a storm.
Fry's Rewards Program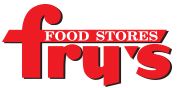 Saturday, August 1 is the date you need to remember. Participants may re-enroll in the 2015-1016 Fry's Community Rewards Program. How to re-enroll:
click on "sign in"
enter your email and password, click on 'sign in'
click on your name (top right hand corner), under 'account summary" and scroll down to 'community rewards'
click on 'edit' under 'community rewards'
under 'find your organization', enter the NPO number or name of organization, then select 'search'
under 'select your organization', click on the circle next to your organization
click on 'enroll'
if correct, you should see a green box with 'your enrollment in the community rewards program has been updated...."
July 26, 2015 - 4 Prayers for the Church
One of the classic team building exercises is the group lap sit. I have done this many times in my work in church camping and with youth. In order to do this well, you need an instructor to guide the group. Secondly, you need the group willing to do what the instructor says. You can do this with a smaller number of people but 10 or more is best.
July 19, 2015 - New Humanity People
We read in Ephesians 2:16 the following, "He has abolished the law with its commandments and ordinances, that he might create in himself one new humanity in place of the two, thus making peace, and might reconcile both groups to God in one body through the cross, thus putting to death that hostility through it: Now we might ask, "What does this new humanity look like?" How does it happen? Why is it necessary? For a Jewish person the entire world is made up of two types of people. No they are not the pessimists and the optimists. Being Jewish is the first type. Gentile or non-Jewish, is the second type. It is that simple. Being Jewish meant you had the blessings of God. If you are Gentile you did not. Christ comes to proclaim a new way. This way is counter culture to how the people treat each other. For you see, humans are quite good at saying who is in and who is out. We do that through race, religions, politics, social class and the like. It happens in all the little cliques in Middle and High school to who's allowed to live in a neighborhood
Getting To The Heart Of Worship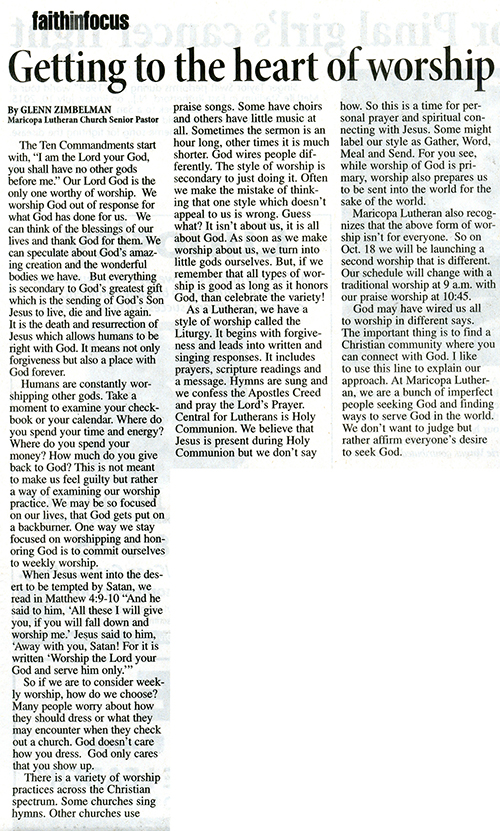 Maricopa Monitor article by Pastor Glenn Zimbelman, July 14, 2015.
July 12, 2015 - Ephesians Series 1-God's Blessings
Ephesus is part of Turkey today. I visited Ephesus on a trip I took with my mother to walk the steps of St. Paul. Ephesus has more extensive ruins than any city I saw second to Rome. So before we begin our journey through Ephesians a little background information might be helpful. The letter is written by a Jewish person many claim as Paul to a Gentile community. The Jews and the Gentiles have always been at odds with each other. Remember, if you are Jewish, to touch a Gentile makes you unclean. Now, under this new religion called Christianity, everyone is included in God's kingdom. So the letter is written as words of encouragement to this new church. It will include advice on how to get along and how to be the church that Jesus proclaims for us all.