---
Sunday: 9 a.m. Bible study 10 a.m. Worship
Tuesday: 6:30 p.m. Chime rehearsal at Pat Jensen's
Thursday: 10 a.m. Prayer group at Linda Fix's
Thursday: 6:30 p.m. Choir rehearsal and Terry & Bonnie Oldfield's
Next Sunday: 9 a.m. Bible Study 10 a.m. Worship & SCS
REMEMBER IN PRAYER
:
Peter (Pastor Cora's brother), Mauro Tongco, Sheila (sister of Diane Hebert), Margaret Chapman, Wyatt, Cheri, Bob Wheadon, Rich and Kathie, Richard and Bernhardine Timmons, James and Modestine Brown , David Collins, Evelyn, Pam and Mike Negro, Inez (aunt of Maria VanDyk), Pastor Cora, Wendy, Brooke, Melissa (Doug and Lyn's daughter), Ed (brother of Kathy Wilson), Bryan Rohde (son of Richard and Phyllis), Vicki, and Joyce Larson.
Serving on Sunday: Barbara Nybakken, assisting minister; Maureen Smyth, lector; JoAnn Eslinger and Carol VanBatavia, communion assistants; Joe Lambert, acolyte; JoAnn Eslinger and Marian Bjerke, altar setup; JoAnn Eslinger and Maureen Smyth, greeters; Ron and Cookie Moen, ushers.
Scriptures for Sunday: Isaiah 64:1-9; Psalm 80:1-7, 17-19; 1 Corinthians 1:3-9; Mark 13:24-37.
Scriptures for next Sunday: Isaiah 40:1-11; Psalm 85:1-2, 8-13; 2 Peter 3:8-15a; Mark 1:1-8
The flowers on the altar on Sunday are given by Carl and Pat Jensen in thanksgiving for their children.
The prayer group has changed their meeting times to the first and third Thursday of every month. They are reading "The Power of a Praying Woman" and would love to have new women attend.
The next meeting will be December 4 at Linda Fix's.
Just added to the Download Page:
NEW

Pastor Zimbelman's Acceptance Letter
Maricopa Lutheran will have a presence with a booth at the new "Merry Copa Festival", Dec. 6 from 3 - 7 p.m. This will be held at the Copper Sky Recreation facility. We are so excited as our new Pastor Glenn Zimbelman, will help with the booth from 4 - 7. We are looking for volunteers to take an hour or so at the booth to help introduce Pastor Glenn to the community and it will be a great way to spend some time with him. We are looking for 3 or 4 for each hour and chairs will be provided. If you would like to volunteer it would be best to use one of the shuttle services provided by the city otherwise it will cost $5.00 to park at the facility. We will also need help with set-up and tear down. There will be a sign-up sheet in church or you can call Kathie Miller: 520-350-1041 or email to: 1richkate@gmail.com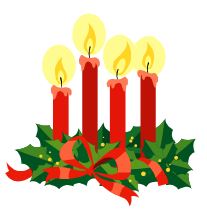 The season of Advent begins this Sunday, November 30 - a time of waiting. It's something we hate to do. It's something most of us don't do well but which we all end up doing more than we care to admit. Think of the many examples of waiting in our daily lives. We stand in line at the post office, waiting for the next available clerk. The voice on the other end of the phone line says, "Thanks for calling; can you hold, please?" A student in the school hallway runs to catch up with friends, shouting, "Wait for me!" The host at the restaurant tells the hungry customer there will be a twenty minute wait for a table. We sit in the "waiting room" of the doctor's office. A child on Santa's lap tells him, "I can't wait 'til Christmas!"
Whether we care to admit it in this instant gratification, drive through window, two minute oatmeal microwaveable, instant credit approval society, we are a waiting people. The same can be said of disciples of Jesus, and no other season in the church year is more filled with the theme of waiting than Advent. "Beware; keep alert; for you do not know when the time will come." (Mark 13:33 NRSV)
Greetings from Pastor Glenn Zimbelman

Pastor Glenn sends his greetings. In addition to following the Church's Twitter Account, you may want to follow Pastor Glenn on his Twitter account.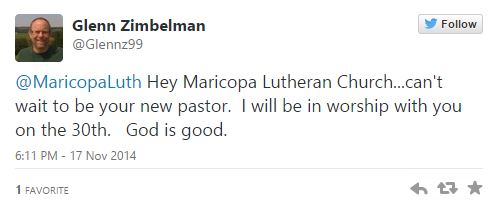 If you currently do not have an assigned envelope for your offering and would like them for 2015, please let Sue Fletcher know. You can email her at avpsue@aol.com, call her at 520-431-3632, or just stop her after church and let her know
Fellowship is looking for someone to take over the chairmanship. Eileen Stratman has done it for years and would like to turn it over to someone else. Many, many thanks to Eileen for all her hard work!!
We will be voting for new council members in January at our annual congregational meeting. If you are interested in running for council, please see Gale Stratman, JoAnn Eslinger, Diane Hebert, Norm Wilson or Maureen Smyth.
We are conducting a Christmas toy drive. The toys will be donated to the Maricopa Food Bank. Please place all unwrapped, new toys in the collection boxes which will be placed at the back of the church on November 30 and December 7.
There will be NO Sunday school on November 30, December 21, 28, or January 4.
Please read the attached poster regarding this wonderful event to be held February 16 and 17, 2015. There will be registration forms available beginning on Sunday - let's get a group of 10 or more to attend this exciting event!!
Unfortunately, we have had to cancel the Christmas program and party scheduled for December 14, 2014.
Please mark your calendars for December 14 for the installation of our newly called Pastor - Glenn Zimbelman. The bishop requested this date so that he could be here for the installation.
We will have a potluck lunch following the service, so bring your favorite dish!!
We are in need of acolytes! If you are interested, please contact Maureen Smyth at 520-568-8996 or at motherhen53@hotmail.com.
Bible study is held every Sunday from 9 to 9:45 a.m. A number of us have been discussing the Gospel readings and have been enjoying hearing each other's opinions, insights, and related stories. Please join us!!
Pastor Carl Jensen has kindly offered to do visits for families in need of pastoral care. If you have an illness, death, or would like communion, please let Pastor Carl know, either directly at 757-846-3798 or at the church phone 520-450-1871.
It is time to update our MLC directory and we need your help!! We have been blessed with many new people in the past year or so and have tried to keep up with addresses, but are missing quite a few.
We would appreciate it if everyone (even if you think we already have it) would send their address, phone number and email to Sue Fletcher at avpsue@aol.com and she will compile all this information.
It would also be helpful if you would provide your birthday/anniversary in this email. We are sure we are missing many of those also. Thank you for your help!!!
Follow us on Twitter for most last minute updates and notifications.
Most announcements that are appropriate for public distribution will also be twitted on our Twitter account.
If you already have a twitter account, simply click: Follow us on Twitter.
Please let Sue Fletcher know when a name can be removed from the prayer list.
---