THE WEEK OF NOVEMBER 29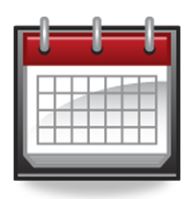 This week's schedule.
Altar Flowers Schedule
November 29 - Mojo and Jeewon Krup
December 6 - Sue Fletcher
December 13 - Eleanor Bader
December 20 - Roy and Angela Bentley
December 24 - Congregation brings poinsettias
Building Fund Goal
At our special congregational meeting, the congregation unanimously voted for MLC to have a "goal of obtaining land and/or a building for the mission and ministry of Jesus Christ." We have a promise from a member or members that they will match our funds if we can raise $50,000 by the end of the year for our building fund. Our last 90 day commitment yielded a promise of $11,000 which would bring us within about $5,000 of that goal. Here's where we stand right now: BF $46,911.71. Still needed: $3,088.29
Commitment Cards and Time and Talent Sheets
Please remember to turn in your commitment cards and time and talent sheets. You can place them in the offering plate.
Congregational Meeting
Our annual congregational meeting will take place on Sunday, January 17, immediately following the praise worship. We will have a pot luck lunch first and then meet. You will be receiving a packet of information for this meeting sometime in December.
Good Gifts
The women's prayer group is collecting money for the ELCA Good Gifts program, simple water well, which provides families access to clean, safe water. They will collect through December. Please make checks payable to MLC with "good gifts" in the memo section. "I was thirsty and you gave me something to drink." Matthew 25:35
Toys for Food Bank
We are collecting toys for the food bank on December 13. Please see Eileen Stratman for details.
November 22, 2015 - Christ the King
On one of my best youth trips which was to go house boating on Rainy Lake which borders Minnesota and Canada. Rainy Lake is Huge and it has great bass fishing. You didn't have to worry about the kids running off. You parked the houseboat on a small island and spent the week fishing, hanging out and doing Bible studies. It was usual for the bus to make a bathroom stop in International Falls. It was one of the counselors birthday. The other counselor stopped at one of the roadside picture vendors and bought him a picture. He was in the back of the bus, she stood and the front, and she presented the picture all wrapped up in brown paper. She tore away the paper and from the back of the bus the counselor yelled out with glee, "It's the King".
MerryCopa Days
MerryCopa Days is Saturday, December 5, from 2 to 8 p.m. We will have a booth and need help manning the booth for 1 1/2 hour time slots. We also need help with setting up and tearing down. If you attend MerryCopa Days, remember to wear your button!!
Amazon Smile
You shop. Amazon gives. Amazon donates 0.5% of the price of your eligible AmazonSmile purchases to Maricopa Lutheran Church. Everyone loves to shop at Amazon, so take advantage of this great offer and donate to MLC when you shop!
AmazonSmile is the same Amazon you know. Same products, same prices, same service.
Veterans Day Pancake Breakfast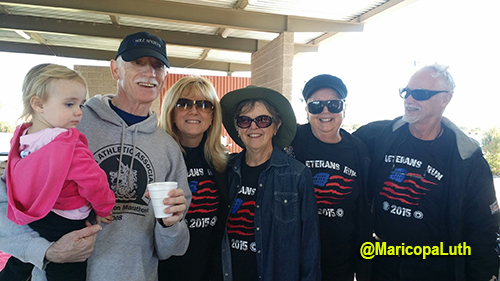 Veterans Day pancake breakfast and run on Saturday, November 7. In the picture are Terry Oldfield (holding his granddaughter), Stephanie Wallace, Gwen Marsh, Carl and Pat Jensen.
Terry Oldfield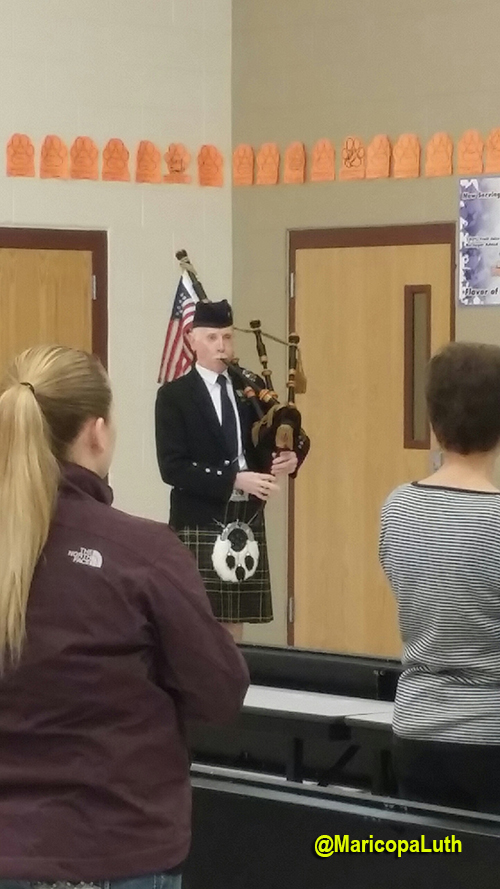 Terry Oldfield honors our veterans on Sunday, November 8
November 15, 2015 - Comfort and Conflicted
Readers Digest tells the story about a woman asking her brother-in-law if he had to do it all over again would he have children. Looking at his children, He replied, yes, I just wouldn't have these four. Family. It is fantastic when families get along. Some of us are quite lucky when our families are close and connected. The only problem is choosing who gets to control the remote. But what happens when families are shattered. Siblings do not get along. The proverbial black sheep shows up, with his or her latest problem! Someone once said that where there is a will, there will be family. The hurt and heart ache produced by mean words and actions shatters families all the time. Too often relationships remain broken, like an open sore that never heals. Any of you have some open sores happening?.
Welcome Back Gwen Marsh
Gwen Marsh at the keyboards.
'I Can Follow Jesus'
This is a new program being promoted by the Education committee for children from preschool through 5th grade. It encourages healthy Christian habits at home by challenging them to perform various activities such as daily prayer, weekly worship, daily Bible reading, generous giving, etc. Prizes will be given after performing a required number of activities. If your child has not received their book, please see Sharon Mros, Gretchen Johnson, Maureen Smyth, or JoAnn Eslinger.
November 1, 2015 - Servant Leadership
As I begin my message this morning, let us say together our mission statement, Gathered by the Holy Spirit, Fed with Word of God. Sent to make Christ known. Last week we looked at the leadership disaster that resulted in the division of the nation of Israel. So we now have the Northern 10 Tribes called Israel and the Southern 2 tribes called Judah. Today we look at a lesson from 1 Kings and the prophet, Elijah.
Buttons and God's Mission
We Care buttons are $1 each. The purpose is to wear them anywhere, anytime. We also will have opportunity to especially use them for Mission Service and Mission Presence. Mission Service is anytime we serve in the community, food pantry, library, etc. Mission Presence is wearing them to events in the community to show that We Care. Imagine if every person at MLC was committed to doing one Mission Service or Mission Presence a month. You can also just wear them grocery shopping! Also, please have a current business card with our new updated worships if someone asks about MLC.
Devotional Booklet
Our narrative lectionary devotional booklet is provided by Mountain View Lutheran Church and can be sent to you via email weekly. To sign up, go to www.mvlutheran.org/devotional.
New Disciples (Member) Meeting
December 6 from 12:30 to 2:30 p.m. at Gale and Eileen Stratman's home. This will be a getting to know one another session and is open to people wishing to join Maricopa Lutheran as associate (maintain current home church) or as a full member. Lunch will be provided so please let Pastor Glenn know that you plan to attend. His phone is 928-363-0155; or use our email CONTACT FORM.
October 25, 2015 - The Dancing King
Last week we heard the story of Ruth. She will marry Boaz, and have a son Obed, who will have a son Jesse who interestingly enough, becomes the father of David. We come to one of the most important part of the Old Testament if you are Jewish. David's most famous story happens when he is a shepherd boy, with a single stone he slays Goliath. Now years later, Saul is dead for he lost favor with God. Israel was divided between the several factions. David unites the nation under one king.