.

Scan with your Mobile Phone to Donate online.

---
Welcome Home!
WELCOME HOME PASTOR GLENN!!!!
August Birthdays and Anniversaries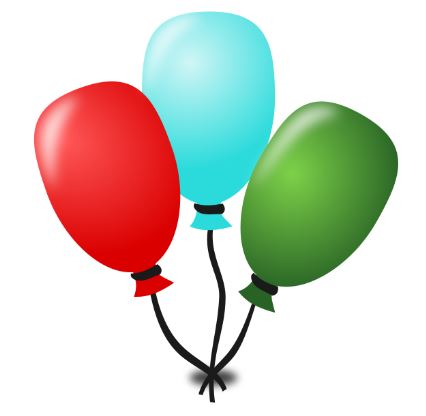 Birthdays:
Judith Littleton - 8/2
Jim Steinhauer - 8/4
Gwen Marsh- 8/7
Preslee Isetta - 8/10
Clarita Knutson - 8/10
Gene Granquist - 8/12
Carl Jensen - 8/21
Pam Callins - 8/23
Nathan Beeman - 8/27
Anniversary
Summer Message Series
Beginning on June 11, Pr. Glenn will begin his message around Luther's Small Catechism. He will cover the Ten Commandments, the Creed, and the Lord's Prayer. You are encouraged to read each section of the Small Catechism in preparation for Sunday morning. You can download a free app or find it online. If you would like a hard copy, see Pr. Glenn. June's schedule is as follows:
August 20—Lord's Prayer—Exodus 20:7; Matthew 6:7-9
August 27—Lord's Prayer—Revelation 21:1-5; Matthew 6:10-11
September 3—Lord's Prayer—Galatians 6:1-5; Matthew 6:12-15
Land Update
We have extended our closing date to at or before August 31, 2017. We have received Survey, Appraisal and ESA reports all within norms. We wait for our soil sample due at the end of August. The property is already approved for use as a church.
Congratulations to Brian and Carla!
Vows exchange by Brian and Carla Witkowski. Congratulations!
Thoughts on Stewardship
Stewardship is a partnership with God.
Our life is to be like a river not a reservoir.
You rarely see a hearse with a luggage rack.
Stewardship is not about raising money, it is about raising Christians who willingly trust God.
You cannot out give God.
Stewardship begins with love not giving.
If you want to feel rich, just count all the things you have that money can't buy.
Thou Shall Not Steal - July 23, 2017
We Americans like our stuff. There is a saying in Africa abut Missionaries from America. They have been called Elephant Missionaries. It is because it takes an Elephant to transport all of their stuff. Raise your hand if you have ever had anything stolen?
Reports and Downloads
Just added to the Download Page:
New Members
If you would like to join Maricopa Lutheran, please see Pr. Glenn for an application. We will take in all new members in August after meeting with Pr. Glenn (no class this time).
Uplifting others and the 5th Commandment - July 9, 2017
I think almost all of us like a good who-done-it. Jan and I like to watch British murder mysteries because those Brit's know how to write a good story. Today we are looking at the 5th commandment, Thou Shall Not Kill. As an observation, the breaking of this commandment happens early in Genesis as Cain kills Able. From a cultural perspective, not killing someone seems like a wise thing to do with regard to community. If people could kill as they wished, the community would die. But most people who read this commandment can smugly say to themselves, I have never killed anyone. I am sure if it means taking the life of a human being, everyone here could say that. Unless one of you is hiding the fact and now we have our murder mystery. Jesus being Jesus defines, quote, killing, unquote, as more than just taking a human life. So let us first look at how Luther's defines this commandment.
2017 Mission Plan for Maricopa Lutheran Church
Grow the building fund by $75,000.
Improve communication between council, committees, and thecongregation.
Plan more recreational/educational outings for our congregation.
Plan our 5 year anniversary celebration for February 2018.
Increase our presence in the community by sending at least one ambassador from MLC to city groups like the following: scouts, city council, Copper Sky, Chamber, library, food pantry, women's shelter, Copa Senior Center, service groups and Hidden Treasures Thrift Store.
Food Pantry
The pantry is currently operating out of #108 behind ED3. They do not need egg cartons as they cannot handle cold foods. But they do need plastic bags, peanut butter, jelly, and tuna fish. They also need other non perishable foods and hygiene products such as soap, toothpaste, toothbrushes, diapers, wipes, etc. For the summer, they are emphasizing the peanut butter, jelly, and tuna fish as the kids are out of school and need to be fed.
Catalyst for Action - june 4, 2017
One day a group of scientists got together and decided that man had come a long way and no longer needed God. So they picked one scientist to go and tell Him that they were done with Him.
The scientist walked up to God and said, "God, we've decided that we no longer need you. We're to the point that we can clone people and do many miraculous things, so why don't you just go on and get lost."
God listened very patiently and kindly to the man. After the scientist was done talking, God said, "Very well, how about this?
Name Tags
If you need a name tag, please contact Maria VanDyk at vandykme@yahoo.com
Presentation of Thanks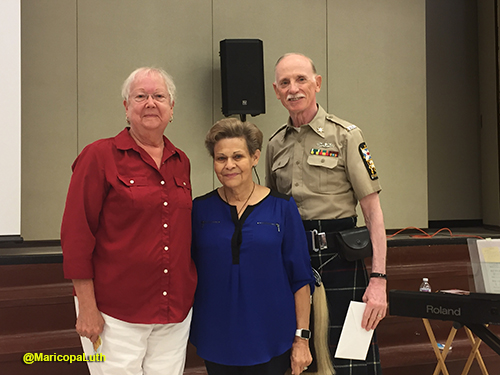 Terry and Bonnie were presented with a gift from the worship committee on Sunday, May 28, , thanking them for their dedication to our church. Terry sets up the sound system every Sunday: they both sing in the choir, play instruments (Bonnie, the bass, and Terry, the guitar) and play in the chime choir; Terry wrote our mission song; they provide their home for choir rehearsals and for Lenten services. They are truly a gift from God!!
Law or Love - May 28, 2017
Following the resurrection, the disciples were still scattered about Jerusalem and the surrounding villages. John finds Peter and runs up to him. Excitedly he says, "Peter, Peter! I've got some good news and some bad news." Peter takes ahold of John and calms him down. "Take it easy, John. What is it? What's the good news?" John says, "The good news is Christ is risen." Peter says, "That's great! But, what's the bad news?" John, looking around, says, "He's really steamed about last Friday." I am glad that next week is Pentecost because preaching on Galatians is actually quite hard. For one thing, Paul beats a dead horse when he goes on and on about works righteousness versus faith. If you are born and raised Lutheran, saved by grace, is drummed into us. Most of us would say that we are not saved by what we do. Now you see, we all could now go out for Ice Cream. I have entitled my message this morning, Law or Love. My hope is that God may use me to deepen your faith a bit this morning.
The way of Grace - May 14, 2017
Madison, Wisconsin being a university town is a town that likes to read. I noticed there were all kinds of free newspapers scattered throughout the city. The newspapers were supported mostly by advertisers and each newspaper had their own little niche. Some were aimed at the music scene, others toward family and even some on the far edge of which you might recognize the name of The Onion. Well I decided to publish my own Christian newspaper called Hope In Action. I wanted to highlight all the good things the church was doing in the world. This is my first encounter into the wide range of theology among Christians. Some churches would allow my newspaper because either I was not born again or they wanted to take an ad out against abortion. Others wanted me to lay down the law against all those sinners in Madison. I even got a call from a person who told me that he researched scripture and there are over 200 laws that Jesus proclaimed and if you don't follow all of them, you are toast. He wanted me to print those laws. Needless to say, for many Hope in Action became Hopeless in Action.
On Line Giving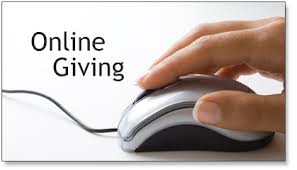 Just a friendly reminder that we offer electronic giving as a way to automate your regular weekly offering. Electronic giving offers convenience for individual members and provides much needed donation consistency for our congregation.
God's Love for All People - May 7, 2017
Apparently if head East on Interstate 10 on the other side of Tucson is a tourist trap known as the Thing. It is a museum of course that includes wild and wacky things. Do you want to know that the Thing actually is?
It is a mummy in a coffin. There now I have saved you tons of money because you don't have to stop and see it. Speaking of wild and wacky things. We are going to talk this morning about one of the strangest stories in the Bible. It is the story of the Ethiopian Eunuch. Think about this scenario. This guy is rich. He can afford a chariot and someone to pull him along. He is in charge of the Treasury so he is an upper crust society guy. You would consider him as someone on the President's cabinet. For whatever reason he decides to go to Jerusalem and worship. So on the way home he is on a dusty road out in the middle of nowhere. As he is being pulled along in his chariot, he is reading the Old Testament from the book Isaiah.
Nurture and Mission - April 30, 2017
In the coming weeks we are going to be focusing on the book of Acts. Since we spent the year looking at the Gospel of Luke, Acts is actually the second half of the story. The Bible really messed things up. The New Testament should have been, Matthew, Mark, John, with Luke-Acts placed together. Acts is the extension of the Gospel of Luke and should be viewed with that in mind. We will touch on Pentecost after a few weeks, but after the day called Pentecost, we read the following in Acts 2:44-47.