---
Sunday: 9 a.m. Bible study 10 a.m. Worship
1 p.m. Council meeting at Carol VanBatavia's
Wednesday: 7 p.m. Christmas eve service
Next Sunday: 9 a.m. Bible Study 10 a.m. Worship
REMEMBER IN PRAYER: Peter (Pastor Cora's brother), Mauro Tongco, Sheila (sister of Diane Hebert), Margaret Chapman, Wyatt, Cheri, Bob Wheadon, Rich and Kathie, Richard and Bernhardine Timmons, James and Modestine Brown , Pam and Mike Negro, Inez (aunt of Maria VanDyk), Wendy, Brooke, Melissa (Doug and Lyn's daughter), Bryan Rohde (son of Richard and Phyllis), Vicki, Joyce Larson, Gretchen Johnson, Tom Bouck (friend of Maureen Smyth), Kathy and Norm Wilson on the loss of Kathy's brother, Sue Fletcher on the loss of her mother.
Serving on Sunday: Barbara Nybakken, assisting minister; Sue Fletcher, lector; Carol VanBatavia & Helen Sparks, communion assistants; Oscar Krup, acolyte; Barbara Nybakken and Marian Bjerke, altar setup; Cookie Moen and Laura Cambone, greeters; Bruce and Barbara Nybakken, ushers.
Scriptures for Sunday: 2 Samuel 7:1-11, 16: Luke 1:46b-55; Romans 16:25-27; Luke 1:26-38.
Scriptures for next Sunday: Isaiah 661:10--62:3; Psalm 148; Galatians 4:4-7; Luke 2:22-40.
The flowers on the altar on Sunday are given by Carl and Pat Jensen to the glory of God and in memory of their parents.
Installation Pastor Glenn Zimbelman by Bishop Talmage

December 14, 2014, was a day of celebration at Maricopa Lutheran Church here in the City of Maricopa. The congregation applauded as Pastor Glenn Zimbelman was installed as their new pastor. Officiating at the ceremony was the Bishop of the Grand Canyon Synod of the ELCA, Bishop Talmage.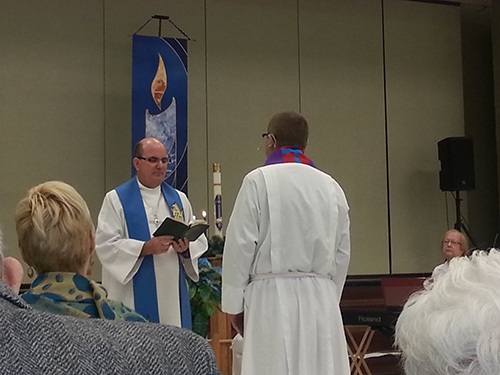 Photo Credit: Stephanie Wallace
December 21 - Carl and Pat Jensen
December 24 - EVERYONE BRING POINSETTIAS!!!!
December 28 - Keith and Marian Bjerke
January 4 - Fred Fix
January 18 - Eleanor Bader
Our Advent "attitude" as disciples of Jesus is one of hopeful waiting. And in our waiting, we hear a word. "The master of the house will come" (Mark 13:35). It's a word spoken by a God who by a simple word created all things. It's a word of promise from a God we know to be true to God's word - a word which becomes flesh and dwells among us. How might waiting become a gift for you?
It's a wonderful time to gather and worship this Christmas Season. As Advent closes, we invite the community to join us for our Christmas Eve Worship Service.
Christmas Eve Worship
7 pm
Desert Wind School, 35565 W. Honeycutt Rd. - Maricopa, AZ 85138
MAP
Advent & Christmas Greetings from Bishop Steve

In early December I was invited to preach at the Retired Pastors, Spouses, and Widows retreat held annually at Spirit in the Desert Lutheran Retreat Center in Carefree, AZ. The focus of the retreat was Mary's Song following the announcement by her cousin Elizabeth of who the baby is in her womb. As a way of transitioning from Advent into Christmas I share with you some of my words from that occasion:
"Luke includes Mary's song in Chapter 1 probably because of God's habit of turning things upside down and inside out in order to help bring the listeners back to God's reality in the face of our reality. Listen to the most disruptive part of Mary's song:
51He has shown strength with his arm; he has scattered the proud in the thoughts of their hearts. 52He has brought down the powerful from their thrones, and lifted u p the lowly; 53he has filled the hungry with good things, and sent the rich away empty. (Luke 1:51-53)
In the mystery of her pregnancy, Mary knows that God is up to something big. She knows the child forming in her womb will be playing a role, and that role will involve reshaping the human community into the image God intended from the beginning. But I have to believe that just because Mary was a young peasant girl from Galilee, that as she sang her verse and recalled the history of God's people, she knew in her heart and mind that the reversals in her lyrics would come at a price, a great price, because our sinful nature resists, and resists powerfully, when we perceive the great reversal sung about involves us losing while others are gaining.
I cannot help but feel a pinch of conviction when I listen to Mary's song as I participate in a culture driven by consumption, fear and insecurity, which our prophets today tell us can be removed with more money or more of something else. I cannot help but think about humanity's history filled with all the violent power-struggles in order to possess and control resources and people. I cannot help but acknowledge when I hear Mary's words that I know all about power, position, and privilege. I have never known a day when I went to bed hungry or didn't have enough money to meet my daily living expenses. If the truth of her song becomes a reality what does that mean for me? What does that mean for all of us?
Thankfully, this song does not just leave me feeling convicted; it draws me to the ultimate fulfillment of her lyric, which is the cross that will hold that child forming in her womb. The cross of Jesus is the ultimate reversal of world views. The cross opens the door to a different reality and different future rooted in the power of forgiveness and reconciliation that can draw the haves and the have-nots, the powerful and the powerless, the proud and the humiliated, and re-shape human community into the reflection of God's image and even God's will being done on earth as it is in heaven.
I don't think Luke recorded Mary's song so that when we listen to it we bring to mind images of the sweet by and by. I think Luke positions this song as a foretaste of the life and witness of Jesus, as well as, the redemptive work Jesus accomplishes through the cross, and then invites the listeners to become participants in that work here and now.
In Mary's song God has promised to change the world, and in singing the promises of this song, we don't escape from this world, we enter into the world being agents of that change through our commitment to practice justice and to seek reconciliation until that day when Jesus comes."
As we continue our waiting, watching, and preparing leading into the carols of Christmas and the singing the chorus of angels on Christmas, may we find comfort and courage in the assurance that God came in Jesus to be with us, and that Jesus continues to live and move among us as we fight the injustice, resist the greed, reveal the prejudice, and reclaim what it means to be blessed to be a blessing to others.
On behalf of Kim Stevens, John Schaumburg, Teri Traaen, Wendell Harris, Maria Valenzuela, Michael Patterson, Darcy Mittelstaedt and Jerry Kingston, I want to wish you a Blessed Advent and Merry Christmas. Thank you for your partnership in proclaiming the Good News of God's love offered and found in Jesus.
We continue to be grateful for you all.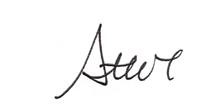 In Mom's obituary, we have asked for any memorials to be given to either Maricopa Lutheran Church or to the Presbyterian Manor in Emporia, KS (where she lived prior to coming here). If money is given to MLC, it will go to the worship and music committee as that was Mom's "thing" when she attended church regularly.
Envelopes for 2015 will be on the table in the back of our worship space this Sunday.
There will be NO Sunday school on December 21, 28, or January 4.
We would like the sanctuary to be filled with poinsettias on Christmas eve! Please bring one (or two) and then take it home for your own decoration after worship.
Fellowship is looking for someone to take over the chairmanship. Eileen Stratman has done it for years and would like to turn it over to someone else. Many, many thanks to Eileen for all her hard work!!
Please read the attached poster regarding this wonderful event to be held February 16 and 17, 2015. There will be registration forms available beginning on Sunday - let's get a group of 10 or more to attend this exciting event!!
We are in need of acolytes! If you are interested, please contact Maureen Smyth at 520-568-8996 or at motherhen53@hotmail.com.
Follow us on Twitter for most last minute updates and notifications.
Most announcements that are appropriate for public distribution will also be twitted on our Twitter account.
If you already have a twitter account, simply click: Follow us on Twitter.
Please let Sue Fletcher know when a name can be removed from the prayer list.
---